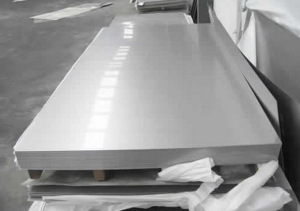 317L Stainless Steel Sheet
Product Code : 10
Product Description
We have with us a highly experienced team enabling us to export and supply an exclusive range of 317L Stainless Steel Sheet. This stainless steel sheet is widely used for fabrication and construction works. It is high in demand in automobile, ship building and engineering industry. Finely crafted using premium quality stainless steel, this sheet comes in various finishing options. We are offering this 317L Stainless Steel Sheet to clients at reasonable price.

Features:
Coated for long term protection
Long lasting shine
High strength
We are the supplier of Stainless Steel Sheet 317L is similar to 316 stainless steel but provides improved resistance to atmospheric corrosion, to many organic and inorganic chemicals and to food and beverages. 317L molybdenum content increases to 3 to 4% from the 2 to 3% found in 316 and 316L. in all size. Stainless Steel Sheet 317L use in food industries,chemical industries , electrical industries, general industries, shaft industries, cement industries, gas industries power project.
Stainless Steel Sheet 317L
Stainless Steel Sheets 317L
Stainless Steel coil 317L
Stainless Steel plate 317L
Chemical Composition
The chemical composition of grade 317L stainless steel is outlined in the following table.
Element

Content (%)
Iron, Fe

Balance
Chromium, Cr

18-20
Nickel, Ni

11-15
Molybdenum, Mo

3-4
Manganese, Mn

2
Silicon, Si

1
Phosphorous, P

0.045
Carbon, C

0.03
Sulfur, S

0.03